WELCOME TO UNIVERSITY EDGE
STUDENT HOUSING IN SOUTH BEND
WELCOME TO UNIVERSITY EDGE
Welcome to University Edge – the top housing for students in South Bend! We're known for our high-end amenities and elegant finishes. Our spacious floor plans range from single one bedroom units to four bed four bath apartments. We're located less than two miles away from the University of Notre Dame, and minutes away from downtown South Bend where several popular events take place. Never have to worry about transportation! Our off campus housing provides students a shuttle bus that stops at the University of Notre Dame, St. Marys, IU School of Medicine, and Holy Cross from 7:30 am to 8:10 pm. You'll find that between the great location, exceptional amenities, and friendly staff, we're the perfect place to call home!
This page will give you space to explore some of the main features we offer such as floor plans, resident reviews, amenities, photo gallery/virtual tour, and location. The buttons below each section will take you to a page with more information on the feature. When you're ready to make University Edge your new home click on "Apply Now" below!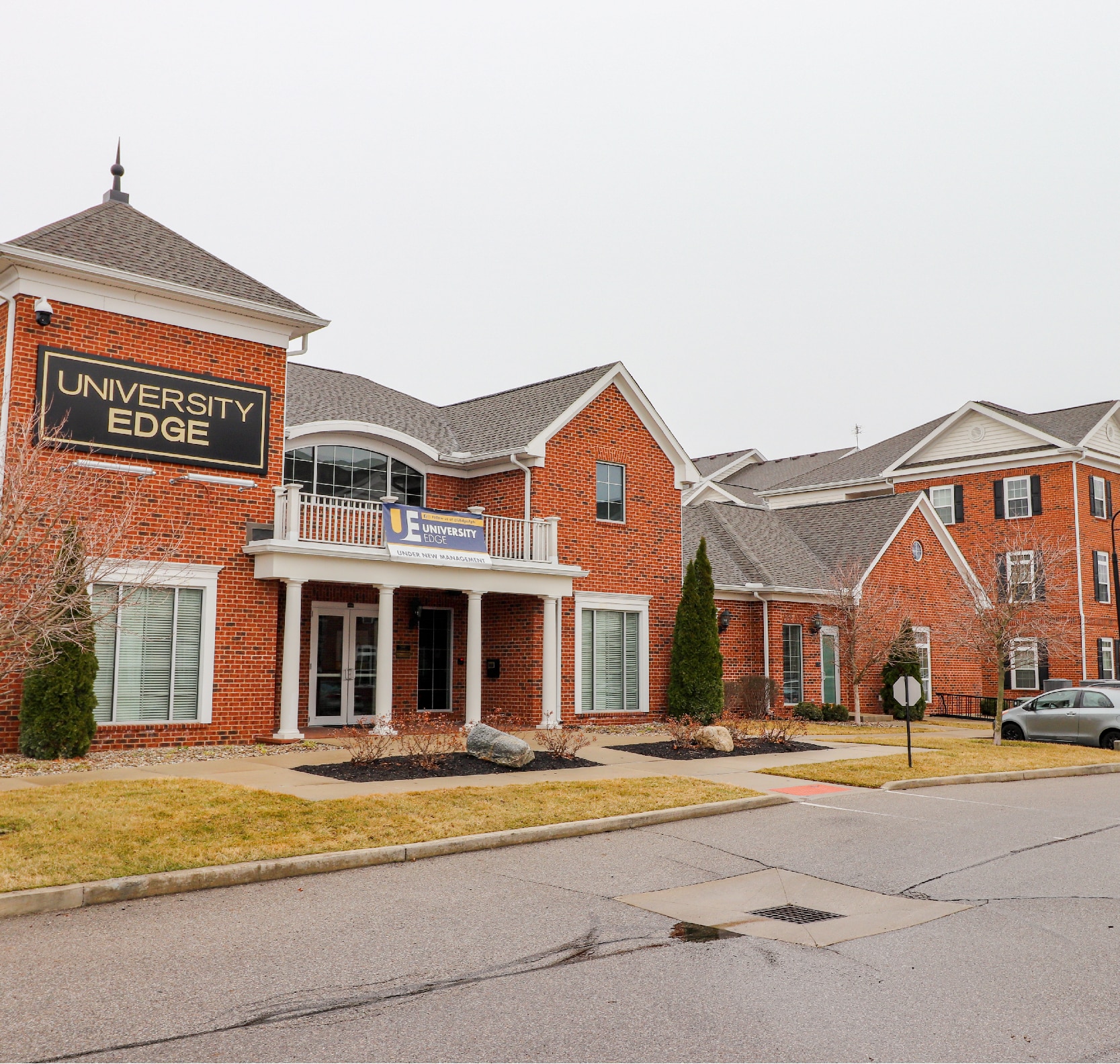 Welcome to U Edge 
The most comfortable student housing complex in South Bend, IN
Explore Our Floor Plans
We've designed our ND student apartments to be spacious and comfortable! Our most popular floor plans – two bedroom and three bedroom layouts – come with the best rates. We also offer one bedroom and four bedroom options. Enjoy the privacy of your own bedroom complete with a full-size bed, desk with a chair, dresser, and nightstand. Each room has its own walk-in closet and full-size bathroom! The kitchen and living room apply an open concept style. Kitchens come fully-equipped with a refrigerator, electric stove, dishwasher, microwave, big island with stools, and a dining table set. The living rooms feature a recliner, couch, and 55-inch smart TV with cable. You'll never have to go far to do laundry with a full-size washer and dryer in each unit. Don't forget about our high-speed internet complementary to residents!
We strive to make accommodations for all roommate requests. If no roommate requests are made, we take time to pair residents together based on their answers to our roommate preferences questionnaire. Make new friends and fun college memories here at the most popular Notre Dame college apartments! Click below to view more of our floor plans!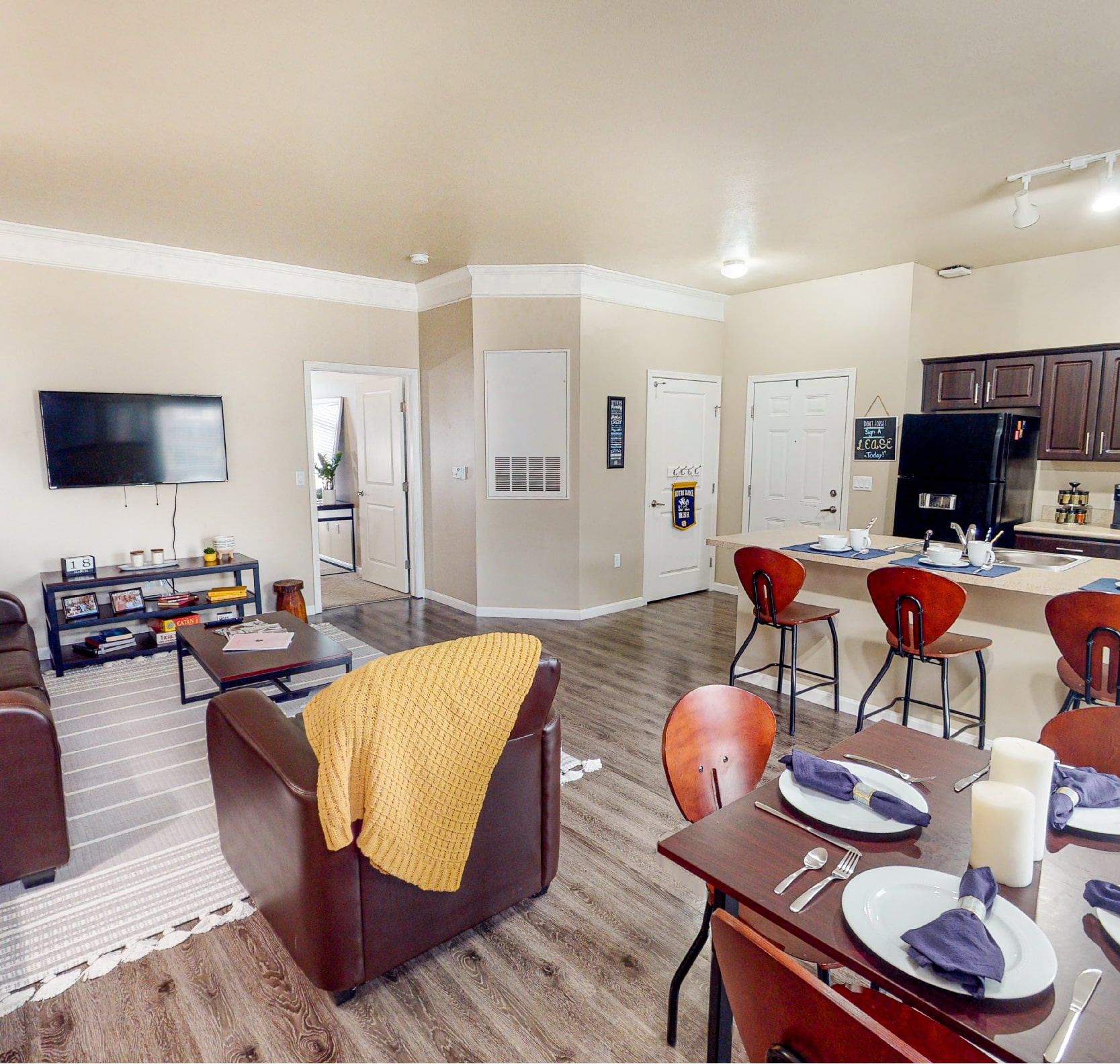 Check Out Our Resident Reviews
At University Edge we strive to give you the best college experience! Learn how we do this by reading some of the great things our residents have said about us:
"Great and Beyond expectation — The people of the apartment are professional and patient. The atmosphere here is welcoming. The equipment is fantastic. I am willing to recommend the U edge apartment to my friends in Notre Dame."

Xincheng W.
"The apartments are great large and spacious — The area is quite and the apartments area large for the price"

Tracey P.
"It is a great place to live! The staff is really nice, friendly and helpful and organized and will help you with the process. They have a shuttle bus that can take you to school. I'm very happy to have lived here two years in a row. I really recommend this place!"

Arezu M.
"Nice up to date apartments with all the amenities you could ask for. The staff here are amazing genuine people who go out of their way for the residents and employees. 5 stars all the way!"

Brandon C.
"Staff was great! They made everything simple and easy! VERY HELPFUL"

Topaz
Experience Our Exceptional Amenities
Here at University Edge, we promote a quiet and convenient living experience for our residents! We have loads of amenities to offer such as an onsite 24-hour fitness center, coffee bar, tanning bed, and gaming room. Bring your friends to our beautiful resort-style pool and outdoor grilling area! Our various community events are perfect for meeting other students! Looking for a quiet place to hit the books? Make use of our computer and study room!  Take advantage of our trash pickup services – three days a week! We have pet stations throughout our community for our furry friends. Click below to see a full list of our most popular amenities!
Photo Gallery/Virtual Tour Sneak Peek
See more of our incredible amenities by taking a virtual tour. You can view all we have to offer from the comfort of your couch!
Location
|
Off Campus Housing Notre Dame
University Edge has the best location in terms of student apartments in South Bend! We're located less than two miles from Notre Dame University. We are also a few minutes from downtown South Bend and many well-known local restaurants like Fat Cap Smoked Meats, Ho Ping House, and Bob Evans! Take advantage of our complimentary shuttle bus that drives students to the University of Notre Dame, St. Marys, IU School of Medicine, and Holy Cross from 7:30 am to 8:10 pm. Click below for directions to our incredible off campus housing in South Bend!